This post may contain affiliate links. Please see my Disclosure statement for more details.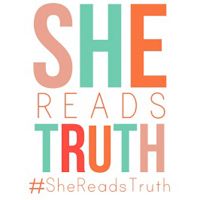 Yesterday's passage to read on She Reads Truth was 1 Peter 2:4-12. It's a lovely, awe-inspiring passage that Peter writes.
Check out verse 4:
As you come to him, … in the sight of God chosen and precious …
And then verse 9, a favorite passage in all of Scripture for me:
But you are a chosen race, a royal priesthood, a holy nation, a people for his own possession, that you may proclaim the excellencies of him who called you out of darkness into his marvelous light.
I hope Stacy doesn't mind me copying some of her comment from the She Reads Truth post. She puts everything in such vivid language!
We all want to be chosen, don't we? It's the whole bachelor/bachelorette scenario. There are ten people and only nine roses and even if we didn't give a hoot about the one doing the choosing – we still would want to be picked, right? We all want to be wanted.

How much more amazing to be wanted and chosen by a holy God who knows every intimate detail about us! He sees us in all our brokenness and says, "Yes. I choose her." He sees what we do not see in ourselves.
Last night, praying and dwelling on all of this, I could almost hear Jesus say,
"Jessie. I love YOU, and you can know it. My Word tells you so. Your little ones – your loved ones – YOU – you all belong to Me. You are weak, but I am strong. Yes, I love you, Jessie."
Put your name in there. Dwell on His love for you, chosen one.
Happy Sunday.